Here's the latest progress. It seems to be pretty much fully functional, both trigger mechanisms are wired into the single pull brake handle. The handle itself is a piece of 22.5 mm tubing that my bike mechanic friend says is used throughout the bike world for everything from handle bars to seat tubes, etc. The nice thing is that it's only a few thou larger than the .875 holes I had drilled, and so presses right on in to one of those standard bearing pocket holes. I fired up the metal lathe and made a couple of custom washers so I could run a piece of threaded rod right through the tube and screw it right on the handle bracket with a nut on each side. One of the washers fits in the bearing pocket hole, you can see it just as a steel disk from this side, while the other is a stepped washer to fit inside the tube on the far end of the handle:
The cables came from a wonderful "bike tune up kit" that Gary or someone found at Walmart for a few bucks. I also couldn't resist a red and black handlebar grip that will make all this look like a Schwinn. The bike mechanic says when you're ready to put a plastic handlebar grip on a section of tubing for good, coat the metal tube with lady's hairspray. It acts as a lubricant for a few minutes and then sets up good. I knew that stuff had to be useful for something...
The camera trigger mechanisms are variations of the ones Gary came up with, but I cut them down a bit. I'm using these cool mini shockcords instead of elastic bands, they provide a good solid pull so the brake lever returns immediately after tripping the two camera shutters. I opted to screw in a stud from underneath each trigger housing, this fits through an oversize hole in the crossember, and into a large fender washer to allow lots of adjustment. It also seemed best to me to use the cross member as a housing cable stop, then drill the finger for the cable, and capture the cable with one of those old bicycle center pull brake nuts. It's basically just a bolt with a hole drilled in it for the cable. Lots of adjustment possible here. This will (hopefully!) all make more sense if you'll have a look at these pictures: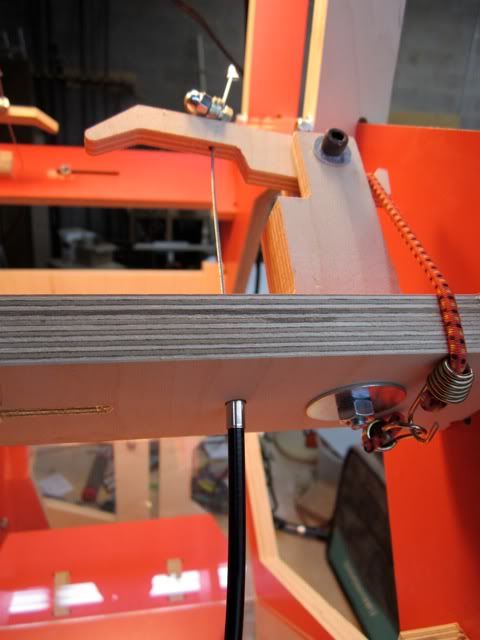 As also suggested by Gary before he headed off for points unknown, I used these two work lights from Lowes. They're reasonably cheap and quite bright:
The plexiglass platens slid in quite well, and I tapped a couple 1/4 X 20 holes for a couple nylon bolts to hold the platens steady and prevent them from sliding out. This works o.k., but it's easy to screw them in too far, in which case the main frame of the scanner separates and the platens simply fall out. I'm thinking I'll notch the platens in a couple places and use the screws to hold them in position that way. I wonder how easy it is to notch glass? Have to ask the glass people: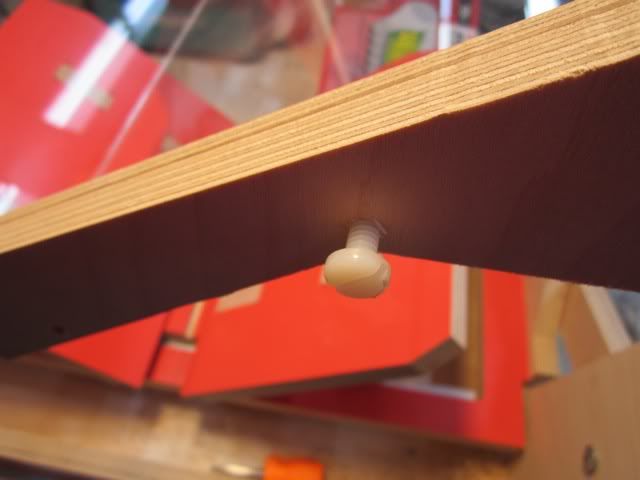 So here's the overall appearance at this point. The pulleys for the shock cords came from a couple of cheap clothes line pulleys, Lowes. They also sell 1/4 X 20 connecting nuts that make dandy pulley stand offs. I just bought a second camera this afternoon. I'm using two cheap point and shoots from Canon. The 14.1 megapixel A2200 is on sale this week at Best Buy for about $80, and that seemed like a reasonable choice. You don't see it in the photo here because I'm using it to take the picture. Should have put the other camera in for the photo but forgot. Sorry.
Tomorrow I'll take it all apart, sand the parts a bit, and shoot them flat black before reassembly. Then on to the software, about which I know very little.
cheers, Charles Morrill